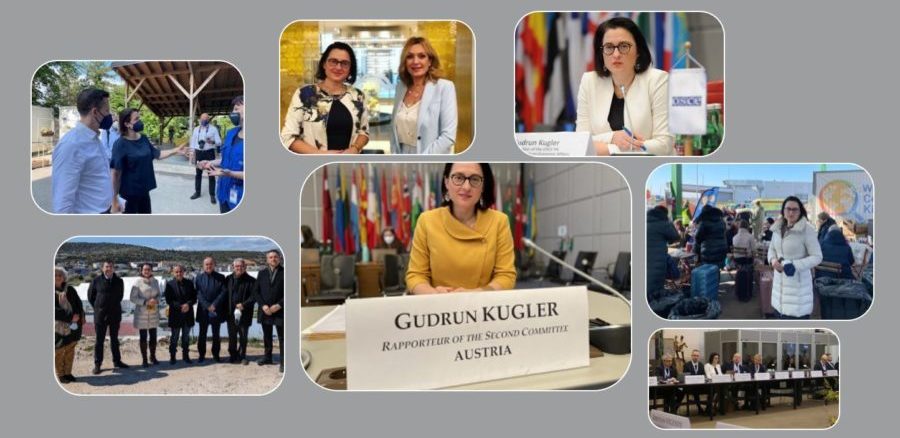 Aktuelles
Running again as Rapporteur for the OSCE Parliamentary Assembly Second Committee
Download my flyer: Candidacy Kugler Second Committee OSCE PA 2022
Despite Covid-restrictions a lot could be achieved in the past year: I consulted with experts, institutions, stakeholders and representatives in and around OSCE and OSCE PA. My report and resolution are a product of these conversations. I thank my colleagues for contributing with their expertise and knowledge!
My personal key objectives as Rapporteur of the Second Committee are:
to work towards peace to enhance security, economy and environmental protection;
to keep working on pre-pandemic threats while we focus on sustainable economic recovery from the COVID-19 pandemic;
to contribute to combating environmental pollution, e.g. through micro- and nano plastic particles, and ensuring food and water security across the OSCE region, especially against the backdrop of climate change and conflict;
to strengthen economy and the region's independence through strategic cooperation, diversification and energy transition;
to leave no one behind and combat new forms of poverty while furthering energy transition;
to find responses to the demographic changes in the OSCE region;
to foster a strong science-policy interface in order to do justice to the interlinkage between environmental degradation and security;
to respond to digitalisation, artificial intelligence and new technologies as a common challenge;
to stay focussed on combating corruption and supporting good governance, thereby respecting the ownership of the people.
Download my flyer: Candidacy Kugler Second Committee OSCE PA 2022